The Importance of Proper Denture Care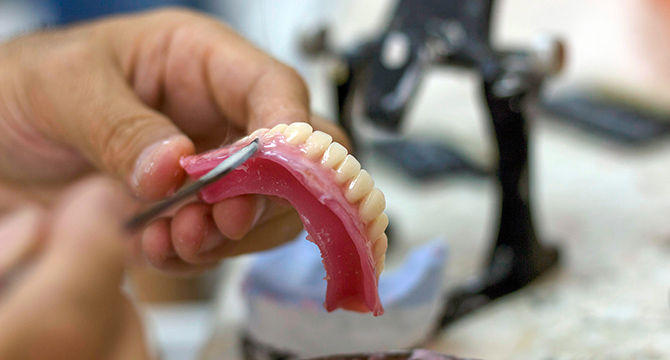 Dentures are one of the many restorative dentistry options available to those that want to replace missing teeth and achieve a beautiful, healthy smile. An essential part of maintaining that attractive, new smile is proper denture care. Depending on the amount of care that you give and the quality of the dentures you are wearing, your smile could last for many years to come.
Proper Denture Care: Knowing Your Dental Device Options
Dentures are offered as both a removable and a permanent means of teeth replacement, making them an appealing choice when it comes to restorative methods. Whichever teeth replacement option you choose, adhering to proper dental care standards can greatly affect your level of success.
Along with proper dental care practices such as thoroughly cleaning your dentures, the fit of your dental appliance can affect your success as well. Loose dentures can promote the growth of bacteria as food can easily get trapped beneath them. A set of loose dentures could also shift easily and cause discomfort as you wear them. If your dentures feel loose or uncomfortable, contact your dentist so that the necessary adjustments can be made.
When it comes to finding the best dentures for your personal oral care needs, your options include:
Complete Dentures – Complete dentures are a removable replacement option used for patients who are missing all their teeth. Although some patients experience difficulties with this type of denture, such as keeping it in place, complete dentures do have benefits that include affordability and the ease with which they can be cleaned.
Partial Dentures – Partial dentures are used to replace a small number of missing teeth. The dental appliance consists of artificial teeth adhered to a gum-colored base and metal clasps, known as precision attachments, that hold the piece in place.
Implant-Supported Overdentures – This type of denture is positioned over metal implants that are surgically placed into the jawbone to stabilize the device.
Tooth-Supported Bridge – This option is right for those who are missing only a small number of teeth and want to achieve a long-term tooth replacement method. A row of dental crowns is used to cap the teeth adjacent to a gap, allowing the replacement tooth at the center of the bridge – known as an abutment – to fill the gap.
Implant Bridge – Used as a permanent tooth replacement option, an implant bridge can be used whether you are missing a small number of teeth or all of them. The device is crafted to look like a natural set of teeth and is secured in place with the use of implants.
Denture Care Tips
Eating with Dentures
The sensation of chewing may take a brief period of time to get used to, but soon the act of eating food will feel as it should – completely natural. Start by eating small portions and chewing slowly.
Be mindful when choosing your meals from day-to-day. Some foods can have an adverse effect on your dentures. Foods such as nuts or popcorn may leave behind bits that can cause discomfort as you chew.
A dry mouth can cause your dentures to irritate your gums. Avoid this by opting for beverages that promote saliva production, such as water and non-caffeinated drinks.
Cleaning Your Dentures
Proper denture care can be achieved in the same manner as that of proper natural teeth care. This includes thoroughly brushing your permanent dentures with a soft-bristled brush and flossing dental implants.
Be sure to use gentler toothpaste and avoid the use of hot water when cleaning your dentures.
Removable dentures should be taken out of your mouth at night in order to allow saliva to naturally cleanse your mouth and to prevent discomfort.
Clean removable dentures by rinsing them with water and soaking them overnight in a specialized cleaning solution.
Visit your dentist regularly for exams and cleanings in order to extend the life of your dentures.
By making choices that are beneficial to the health of your dentures, you can avoid the need for costly treatment or denture repair. Proper denture care results in a continuously bright, healthy smile.
For more information on proper denture care, contact the talented team of dentists at Stonewalk Family Dentistry. Schedule an appointment with us online, or call us at (770) 777-1911.
More articles
2022
From the foods we eat, to the medicines we take, what we ingest from day-to-day has the potential to greatly affect our bodies – particularly our breath. When it comes to halitosis, the scientific name for bad breath, there are a number of bad breath causes that you may have never considered. In addition to proven causes and cures, bad breath rumors often circulate, making it difficult to determine fact from fiction when sifting through the helpful pieces of oral hygiene advice.
2022
Here's a dentist joke for you: what is gross, sticky, and really bad for your teeth and gums? It's plaque, which turns into tartar and can lead to all kinds of oral health problems. And, in reality, fighting back against plaque and tartar on your teeth is no joke! Plaque is one of the primary causes of tooth decay and gum disease, but not many people really know what it is or how to prevent it. So, here's what you need to know about plaque and tartar — what it is, how to prevent it, and how to get rid of it between dental visits.
2022
Whether you are new to the different types of mouthwashes, you're realizing the one you are using isn't working out, or you just want to find something different, choosing the right type of mouthwash for you can be a daunting task. The oral health aisle at any store typically has a floor-to-ceiling selection of mouthwash options, all making different claims with different ingredients. To make your choice a little easier, here is our helpful guide for choosing a mouthwash that's right for you.